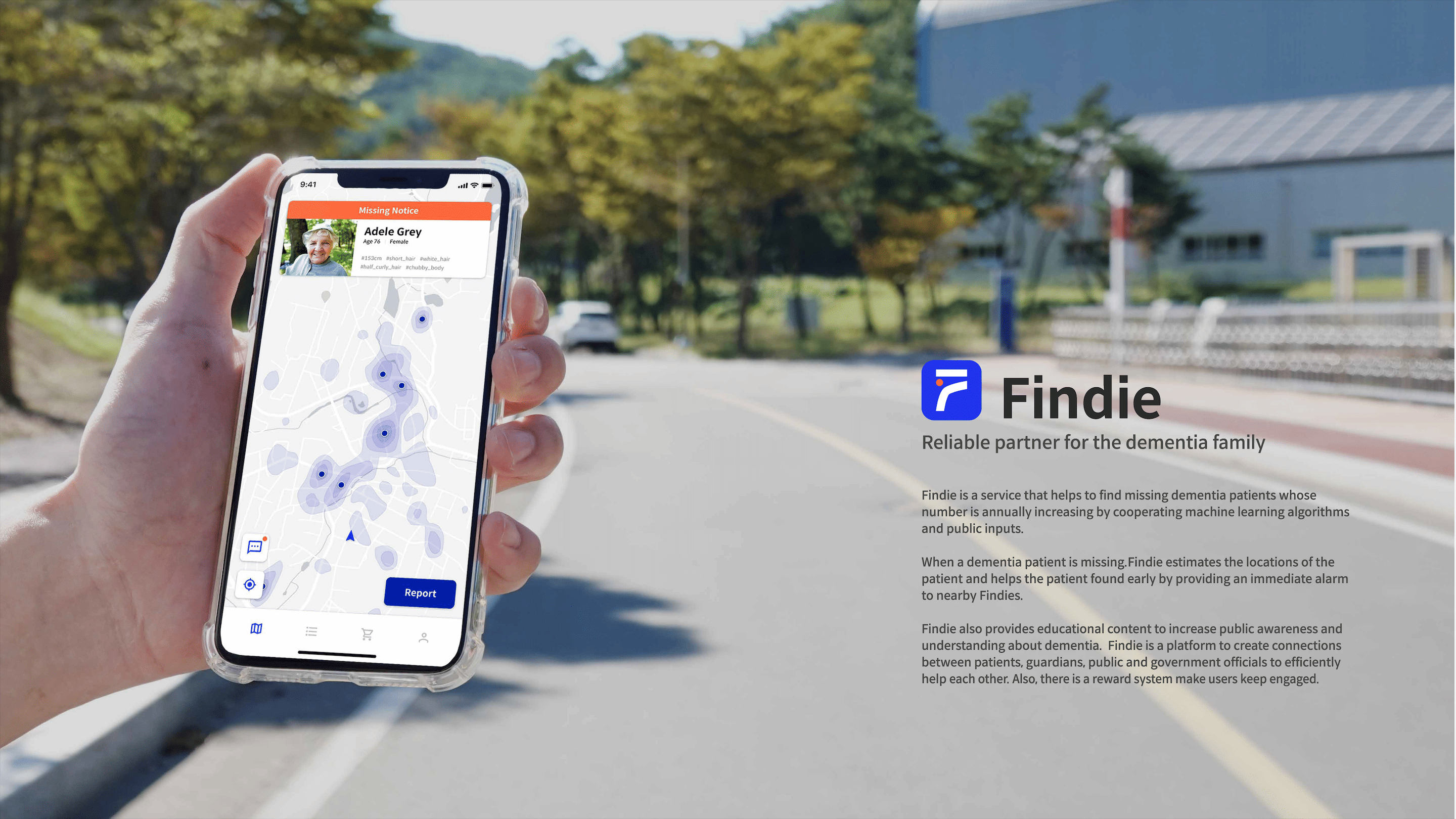 Findie – Public service to manage dementia patients
OND
Yungu Kang, Jaehyeok Oh, Hansol Kim, Yongmin Kwon & Hwang Kim

iF Design Award
2022
iF Design Award is one of one of the three most influential design awards which span multiple disciplines and receive submissions from more than 50 nations every year.
Findie is a service that helps find missing dementia patients, the number of whom increases annually. The app uses cooperative machine learning algorithms and public inputs. When a dementia patient goes missing, Findie estimates the location of the patient and immediately warns nearby users so that the patient can be quickly found. Findie also provides educational content to increase public awareness and understanding of dementia. Findie is a platform to create connections between patients, guardians, and public and government officials to efficiently help each other. The app also includes a reward system to raise user engagement.
Idea
Registered dementia patients by the guardian will be monitored by nearby Findies and experts in the local community. Findie encourages public participation and Findie smart location estimation algorithms with various inputs will help to find the patients in time.
Form
Simple and intuitive interfaces of Findie are suitable even in an urgent situation. Carried out by an empathy-driven design process, Findie user experience, and the interface is carried out to balance between wide age groups and to cover various contexts.
Function
Findie patient's registration process will encourage users to log useful inputs such as locations of normal outings and daily routines. Then Findie will create a patient's heat map. Smart and intuitive reports and a group chat system in case of an accident are also key features.
Differentiation
Findie is useful even without location trackers or ID tags. Findie predicts the patient's expected activity and location through ML and AI, then encourage the public to participate in the finding. It simplifies the process to enhance the efficiency of limited resources.
Impact
Findie helps dementia patients and family members with advanced technology, enhanced connections, and local community participation. Findie tries to create new solutions for dealing with difficult social agendas through design-driven thinking and methods.