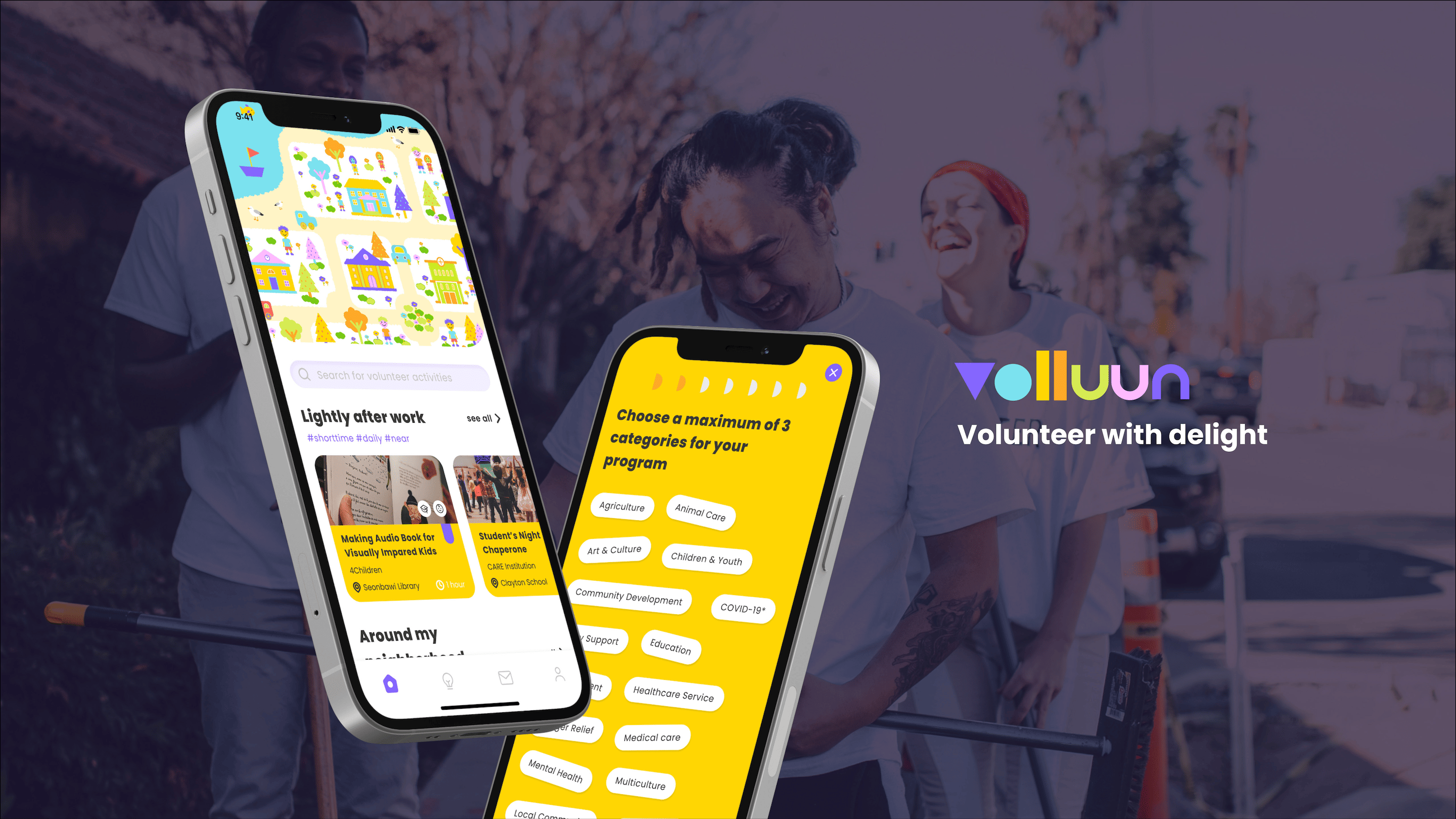 Volluun – Volunteer with Delight
OND & NDS
Jonghyun Han, Kezia Odelia, Minjoo Han, Yeji Yoo, Seungho Park-Lee & Hwang Kim

iF Design Award
2022
iF Design Award is one of one of the three most influential design awards which span multiple disciplines and receive submissions from more than 50 nations every year.
Volluun is a platform to search, find, and document volunteering activities. Personalized recommendations of volunteering programs and gamification settings with a metaverse concept encourage users to consistently contribute to society. Volluun villages, which are playful certifications, are decorated with items that represent the results of a user's activities. Volluun aims to gather individuals willing to help others and spread social impact. By providing a visualized and cumulative volunteering history, volunteers can also share records in their internal networks.
Idea
Volluun is a platform that motivates sincere and consistent volunteering activities. By simplifying the overall process and offering the concept of gamification, Volluun reduces the burden of volunteering for the first time and helps volunteers keep their interest in helping others.
Form
Volluun's interface is simple and intuitive for both volunteers and non-profit organizations. Purposely using strong color elements, it stimulate vitality and vibrancy. Chunky alignment and sans serif typeface give a solid and reliable feeling.
Function
Volluun auto-generates draft resumes and provides friendly guidelines. Volluun provides a hassle-free application process with gap analysis between resumes and requirements to help not-profit organizations to screen participants quickly and easily.
Differentiation
Volluun encourages users to make volunteering a lifestyle with the AI-based personal curation service. Volunteers connect through a metaverse to make volunteering become a fun activity for them. Volluun focuses on satisfying users' emotional needs.
Impact
Volluun helps users build connections and create a new volunteering culture. From young people to parents who want their kids to build a habit of volunteering, everyone can experience a new way of volunteering that doesn't focus only on practical rewards.