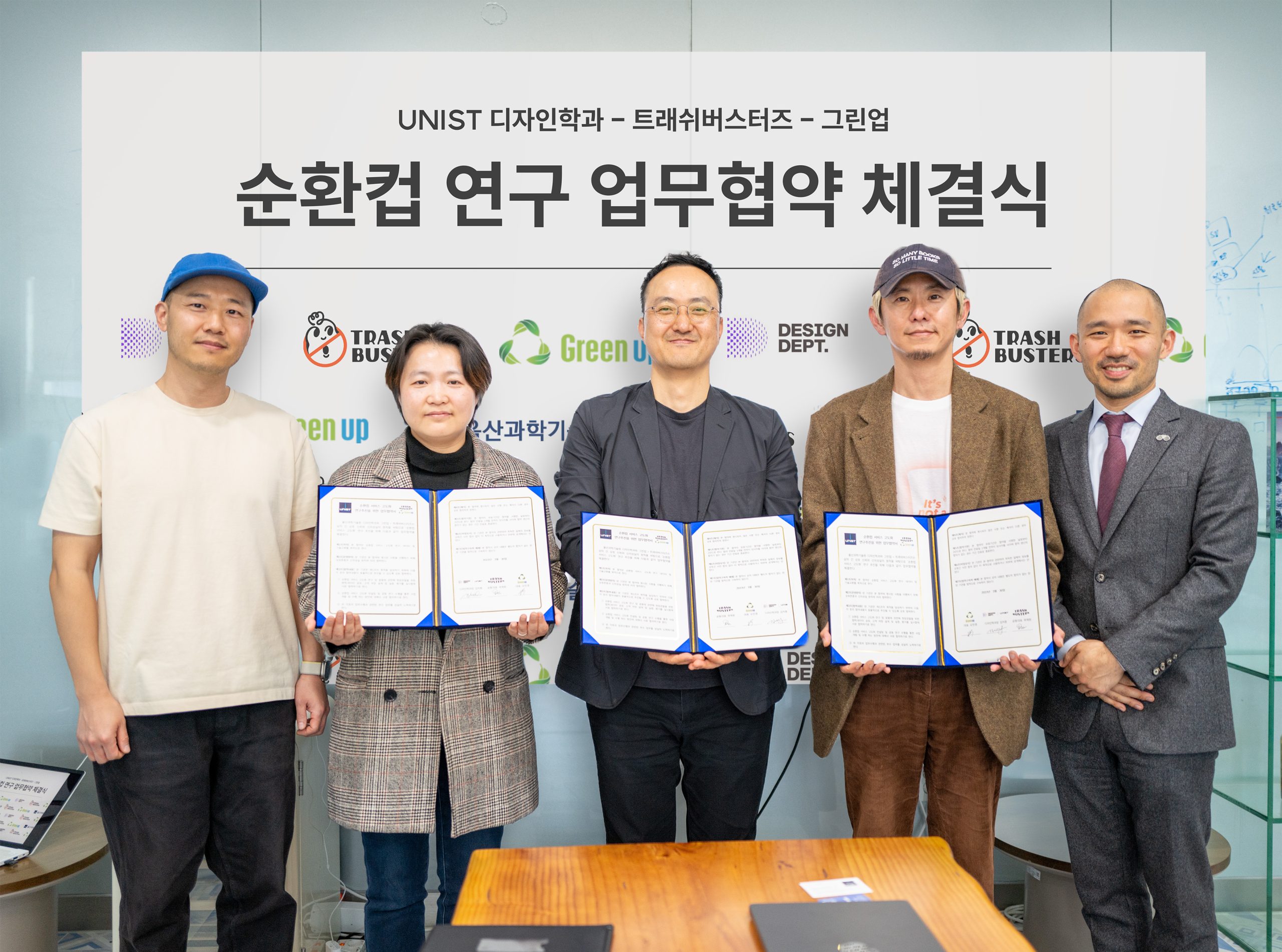 Design Department and the top-ranked companies in circular cup service signed on MOU
The Carbon Neutrality Verification Research Center and the Department of Design entered into separate strategic business agreements with Trashbusters and GreenUp on March 30, 2023.
'Trashbusters' and 'GreenUp'?
'Trashbusters' is a company that provides reusable cup and container services to corporate cafeterias, various festivals, events, stadiums, movie theatres, etc., including Samsung Electronics, LG Electronics, Naver, and AhnLab. It boasts the highest circulation volume in the country, with an accumulated circulation of over 15 million cups. https://trashbusters.kr/
'GreenUp' is a circulating cup service company that has the highest returning rate nationwide, introducing a service that assigns a unique QR code to each cup in municipalities such as Busan and Changwon, allowing tracking of rental and return history. https://greenecon.co.kr/
Through this business agreement, UNIST and the two companies will collaborate to widely introduce circulating container services in Korea and conduct scientific analysis to reduce the amount of carbon and waste generated during container cleaning.
Im Han-Kwon, director of the Carbon Neutrality Verification Research Center, expressed his expectation that "the social impact of our center, which verifies and commercializes UNIST's original design technology, will be accelerated" and emphasized that "UNIST researchers can contribute in many aspects, including technological, economic, and environmental perspectives."
Kim Cha-Jung, head of the Department of Design, confidently stated, "Rather than expecting consumers to endure inconvenience to suppress the use of disposable items, we will design a future experience where using reusable containers is more convenient."
According to Greenpeace's "Plastic Korea 2.0 Report," the usage of plastic cups in Korea increased significantly from 3.3 billion in 2017 to 5.3 billion in 2020. Amidst the significant increase in disposable waste, reaching around 7,000 tons per day due to the impact of the COVID-19 pandemic, local governments, including those in the Busan and Gyeongnam areas, are struggling to expand incineration and landfill sites. The introduction of circulating container services is gaining attention as a way to alleviate these problems by reducing carbon emissions and improving resource efficiency. However, there are still aspects where consumers need to endure inconvenience compared to disposable cups, and there is a need for scientific validation on how much more environmentally friendly they are compared to disposable cups.
Professor Lee Seung-Ho from the Department of Design and the Carbon Neutral Graduate School, who prepared this business agreement from a practical perspective, expressed his anticipation for research that can maintain the quality of life for citizens while promising ESG management for companies and green new deals for the country. He stated, "I hope that the results of this collaboration will empower companies and local governments in achieving carbon neutrality and contribute to the overseas expansion of Korean circulating container service companies.