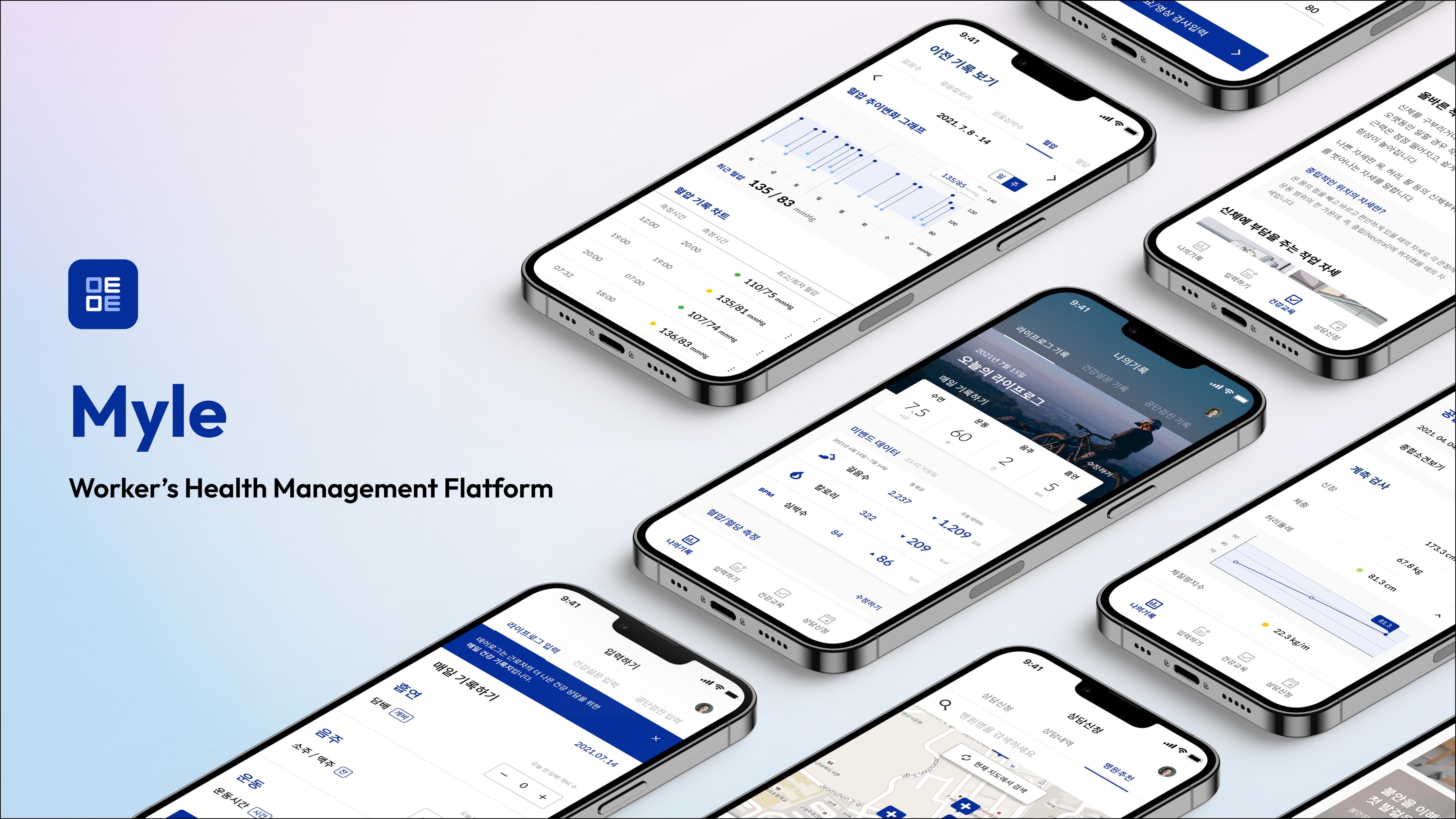 Myle – Digital healthcare service platform for industry workers
OND & HAI
Hyojeong Jin, Hyejin Oh, Dokyung Kim, Jiyoung Lee, Jinback Lee, Yungu Kang, Jejun Park, Sanghee Park, Kyuwon Cho, Seonkyu Lee, Jieun Lee, Yeongjun Park, Dooyoung Jung, Hwang Kim

iF Design Award
2023
iF Design Award is one of one of the three most influential design awards which span multiple disciplines and receive submissions from more than 50 nations every year.
"Myle" is a digital healthcare service platform that allows users, employers and medical staff work together to improve the health of industry workers' health with population health management system. Myle helps workers and medical staff who want to effectively manage workers' health in difficult environments. WorkersIt draws on user can enter and manage their medical, mental, and lifestyle data, mental health data and lifestyle data through the Myle app. Myle to provides customized healthcare services based on the data input and shares them with medical staff to receive detailed and effective health counseling services.
Idea
The Myle platform allows medical staff to monitor the health information of a group of workers at a glance, making it easy to identify workers who have or may be developing health problems and to help them take appropriate actions.
Form
The typeface, layout, and color of the Myle app are designed to promote systematic healthcare. The colors were carefully structured to intuitively recognize different steps of health risks, and the layout was designed in consideration of accessibility for the elderly.
Function
Health data entered into Myle also allows workers to manage their own lifestyles. The Myle algorithm uses this data to offer customized health education programs on lifestyle, workplace hazards, and mental healthcare, helping users take the lead in self-healthcare.
Differentiation
The existing workers' healthcare system is cumbersome under government regulations. Myle provides attractive features and a friendly user experience to help workers understand and access employer-provided healthcare services.
Impact
It is expected that accidents can be efficiently managed through Myle. Upon verification, the platform may be applied to other workplaces and regions to achieve improvement in nationwide health management.