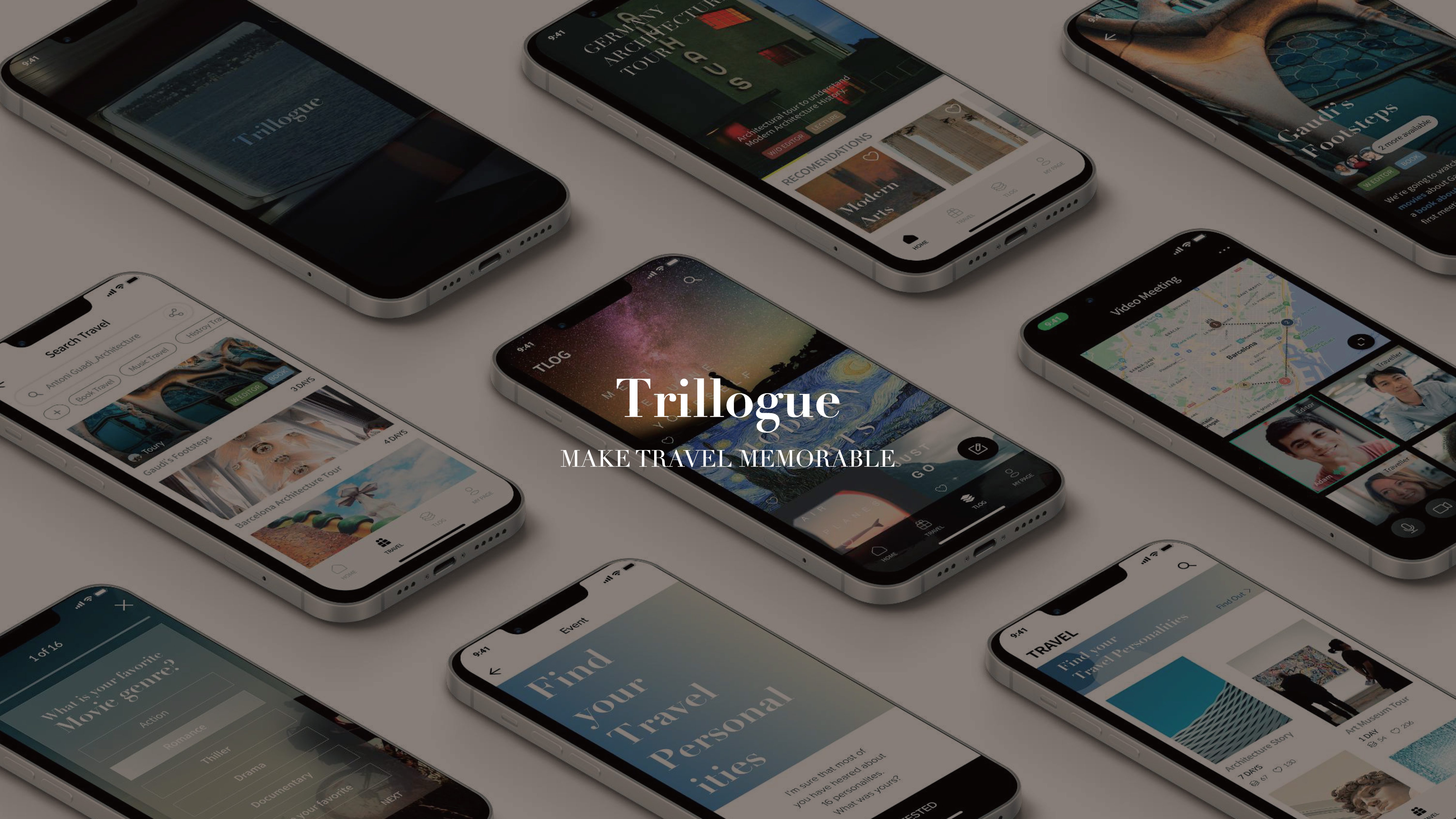 Trillogue – Digital service platform helps to discover traveler's own unique style
OND
Yujin Lee, Hwang Kim

iF Design Award
2023
iF Design Award is one of one of the three most influential design awards which span multiple disciplines and receive submissions from more than 50 nations every year.
"Trillogue" is a digital service platform helps to discover travelers' own unique travel style, and allows them to find travelers with similar interests. As the world became more diverse, individual's travel style and interests are expanded. However, travel and tour options currently on the market are dominated by destination and budget, do not reflect such individual characteristics.
Trillogue helps users discover and participate in trips where they can find new learning and values, and encourages them to design unique trips for themselves. Trillogue will be a useful tool for traveler who want to discover and understand themselves more.
Idea
One of the user valunteerly become 'Trillouge Editor' can set the specific theme and design the trip. Guest travelers can join the travel plan that share talks, articles, ideas, insights and in-depth discussions about the designed travel from begining to the end of travel.
Form
Trillouge's brand identity symbolizes the happiness, excitement, and moments of choice. Trillouge's visual design direction start from visualization of emotions we experience through travel, and chance of discovery and a continuation of choice in life.
Function
Trillouge provides serious but enjoyable tests that users can find out thier life value, learnings they want and undiscovered travel wishes. Trillouge reflects the user's test results helps the user to easily and quickly draw the trip he wants.
Differentiation
Trillouge provides platform that individuals can create their own trips, recruit travel mates and form the team. Trillouge helps interaction between the team members through prepration, during the travel and follow up sessions to make travel more meaningful and enjoyable.
Impact
A new meaningful travel experience and learnings often has a impact on a individual's life. Trillouge contributes to increasing the life satisfaction of members by providing an opportunity to discover their charicteristics and learn more about themselves.