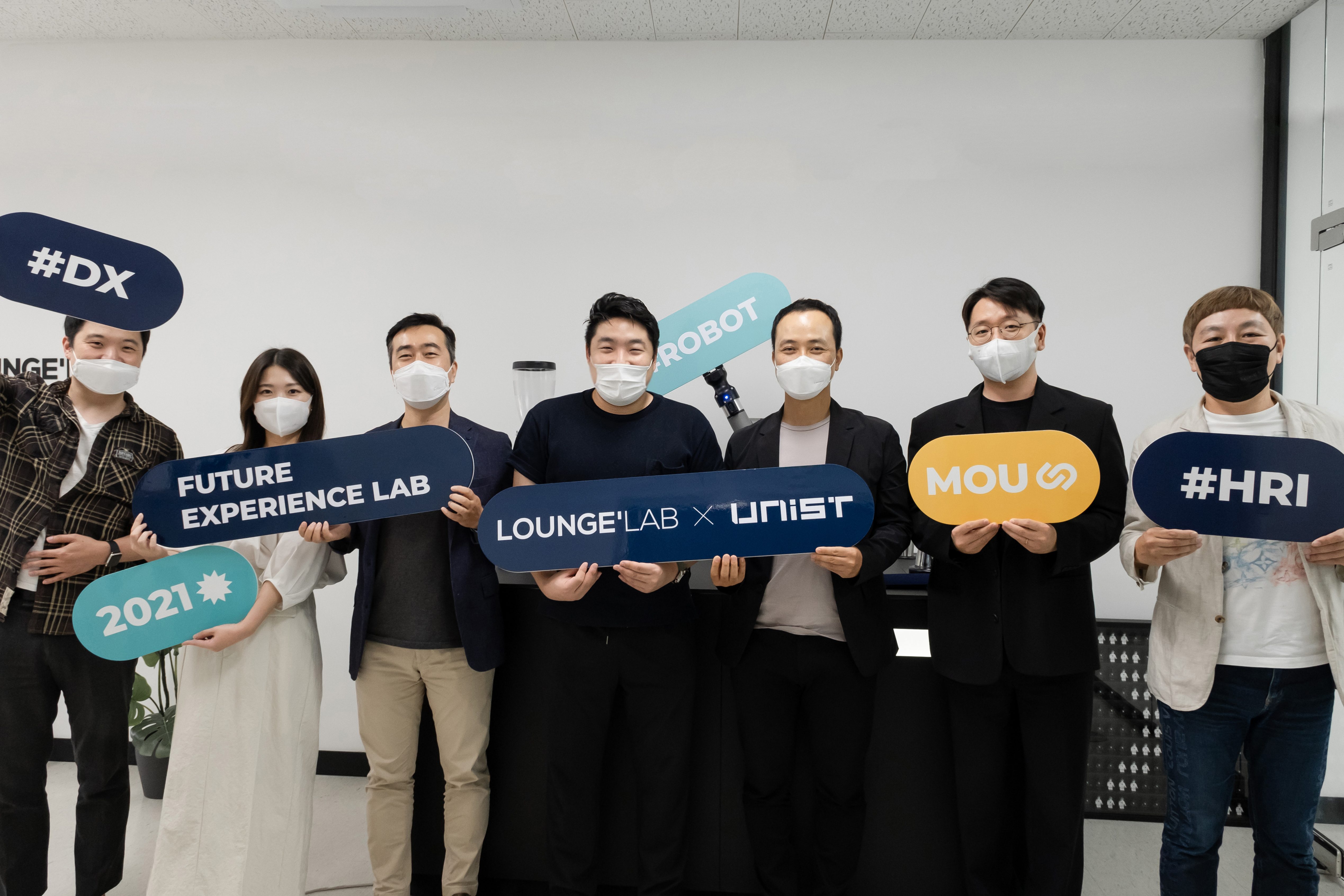 UNIST-Lounge Lab Inc. have signed the MOU for robotics research and innovation
We expect to design enhanced robot service experience over the convenience via cooperation MOU with UNIST. Our research scope will cover from overall food retail market to daily spaces based on development of Unmanned/Non-face-to-face service technology.

Sungjae Hwang, CEO & Founder of Lounge Lab Inc.
We hope this cooperation finds new robot-human relationship with humanity as well as functional/mechanical experiences in technical leading robot service market.

Chajoong Kim, Department head
On October 5, UNIST Department of Design signed a Memorandum of Understanding (MoU) with Lounge Lab Inc. to strengthen excellence in robotics research and innovation.
The primary purpose of this MoU is to strengthen research capabilities on creative and innovative robot service technologies by organically linking the capabilities of the two organizations. As robotics technology is being implemented in the fabric of everyday life, such as in retail sites, they plan to gather capabilities together.
In the memorandum of understanding, the two organizations have pledged to carry out joint research in the following areas: △ Human Robot Interaction, △ Collaborative Robot UI/UX(User Interface, User eXperience), △ Unmanned/Non-face-to-face Service Technology Design △ Autonomous Robot Interaction Design (IxD) △ Future Robot Experience Scenario and Design.
Under this partnership, both organizations seek to build strong practical cooperative relationship, in addition to research and development. They also plan to strengthen their capabilities and capacity to innovate through close relations, such as by implementing measures to improve robot technology education capacity, and establishing a talent recommendation system.
Meanwhile, Lounge Lab Inc. is a retail tech start-up founded based on 'Augmenting Space with Technology.' It has attracted global attention in recent years for operating a robot-barista collaboration café, known as 'Lounge X,' as well as'Brown Bana,' the S. Korea's first robot collaborative robot-based ice cream store. The company has recently launched a robotics research group to change its in-house vision to 'Robots Into Our Daily Life' and strengthen research on robot service technology.